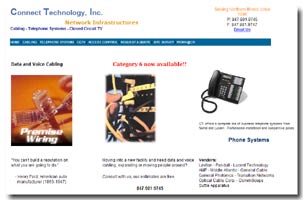 Connect Technology, Inc. offers a complete solution to all aspects of a a total and successful cable installation. Specializes in network cable installations of category 3, category 5, category 5e, category 6 and fiber optics.
Be it a unique structure that requires not so standard methods or installation, an unique technology requiring a combination of topologies or a requirement for work to be completed on a short time notice. Whatever the unique requirements, you can count on CTI's complete support and professionalism from start to finish.
They will work with you to successfully install a complete easy to manage cable infrastructure. To accomplish this, all cabling must be run in an neat and orderly manner, this will ensure easy to maintain cabling for future diagnostics. Strictly following TIA/568 standards.
CTI has extensive experience in single and dual mode fiber optic systems. Mostly used as a backbone in large networks or where large distances need to be covered, where regular copper would not be able to carry the signal over the distance. Currently, as prices are coming down on fiber cable and the equipment; they will see more and more fiber being run directly to the desktop.
CTI can install cabling for WAN's. They have worked extensively with campus type cabling structures. These primarily consists or fiber optics, wireless, infrared or microwave. They have experience in large copper pair, aerial, direct burial or conduit bank environments.

Visit Connect Technology, Inc.

Go Back to Category: Electrical, Voice, and Data Cabling » Report a problem with this website

Information Assumed Accurate On: Jul 15, 2005