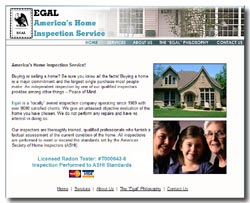 All too often, individuals looking to purchase a home neglect to have the necessary inspections performed, and end up with a costly problem on their hands. Don?t make that mistake. Trust in the expertise of the licensed professionals at Egal.
Services Include:
Structural and Mechanical Home Inspections
Radon Testing-Licensed by the State of Ohio
Their Total Inspection Includes:
Electrical: They inspect for evident deficiencies in the main panel, sub-panel(s), branch circuits, connected devices, lighting fixtures, outlets and wiring.
Plumbing: They check for the type of materials used and inspect for leaks, proper function, flow and drainage of fixtures and all other pertinent items of the system.
Built-In Appliances: They check and operate all appliances, if possible, to identify a malfunction
Heating and Cooling Systems: If seasonal conditions permit, they will check for proper operation and any possible defects. Fireplaces and heating units are also inspected.
Insulation: They inspect for the presence of insulation (except for inside walls) and storm or thermo-pane windows.
Structural: The roof is inspected for blistering, shrinkage, crumbling, moisture absorption and other defects. Interior load bearing walls are inspected for undue stress and warpage. Floor systems are inspected for unusual settling. Masonry construction is inspected for abnormal settling, cracks, moisture penetration and efflorescence.
The items listed above represent only a portion of the areas they observe and check. You have their commitment for a thorough, professional inspection. They encourage you to accompany their inspector to see for yourself! Inspection fees are based on an hourly rate.
For a quotation please call or e-mail with the following information:
1. Dwellings square footage.
2. Age of dwelling.
3. City location.
State Licensed Radon testing fees start @ $135.00.

Visit EGAL ? Ohio Home Inspection Service

Go Back to Category: Inspection » Report a problem with this website

Information Assumed Accurate On: Oct 26, 2007