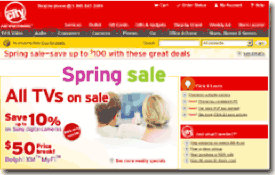 Offers a wide selection of Panasonic LCD TVs, flat panel, projection and plasma TVs. Includes low rate financing with in-store pickup and home delivery available.
About Circuit City
In 1949, when Samuel Wurtzel opened Ward's - Richmond, Virginia's first retail television store - his goal was to provide the community with a new technology that would change the face of consumer electronics forever. More than 50 years, over 600 stores and several name changes later, the technology continues to change, but Circuit City's commitment to their customers remains strong.
The technologies and solutions they provide can make your life easier and more enjoyable. And it's their goal to ensure just that. So, whether you're browsing through one of their stores or surfing their website, they're with you.
Visit Circuit City Today for your home theatre and entertainment needs!

Visit Circuitcity.com - Panasonic LCD TVs

Go Back to Category: Computer, Electronics, and Entertainment » Report a problem with this website

Information Assumed Accurate On: Apr 6, 2005