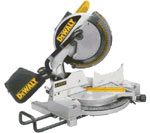 HIW Rating:

We really like this saw! I own two of these - one for trim/finish work and one for rough cutting lumber. The saw used for rough cutting was used in a production environment for 3 years logging over 100,000 cuts on beech and oak stock. I will say it developed a slight blade wobble after this and was retired to do rough cutting of lumber in the field. Am I complaining - not at all! This saw is lightweight, smooth, and accurate for a 12-inch miter saw. It's nine preset stops for common angles are both positive locking and accurate. When locking into a non-preset angle - do NOT over-tighten as it raises the saws table when over-tightened. It's very easy to do this! You will appreciate the large D-handle, smooth blade travel, and the huge blade guard that retracts so smoothly you will not even know it exists.
Compound miters on a saw this large is never a strong point. Dewalt does it's best with the DW705S and it does a fairly decent job. The fence slides away and it's easy enough to set the proper bevel - just make sure the table is firmly attached, the blade selection is proper for the stock, and you don't pull down or force the saw. It takes a while getting used to pulling down with the angle on a saw of this size. If you do a large percentage of compound miters I prefer a sliding compound miter saw like the Hitachi C8FB2 or the Delta 36-250 Sidekick. To trim out most projects this is the only miter saw you will ever need
.Again - there have been reports of owners having a problem with table shift or to be more precise, the table raising - this is simply from over-tightening the table position lock.
Tip: This saw is great for crown molding up to about 6-inch nominal. The best way to cut crown moulding is to set the saw at the 45° positive locking position. Measure/Mark your crown moulding from long point to long point and place your moulding in the saw upside down and backwards. This is a little hard to explain to those of you who do not have experience installing crown moulding, but the moulding should be placed in the saw reflecting ceiling/wall. Your long point should always be positioned on the fence when cutting inside corners and on the table when cutting outside corners. You then take a coping saw and "backcut" out the profile of the cut. I usually draw a horizontal pencil line on the fence following the stock I am using at the time so I repeat the positioning in production. If none of the above makes sense I would suggest a trim carpentry book for the DIY crowd like the Finish Carpenter's Manual.
DEWALT DW705S Features
Stainless steel detent plate with 9 positive stops delivers repeatable accuracy and worksite durability
Extra-tall sliding fence allows 5-1/4" crown moldings to be cut standing vertically
Bevels 0-45° to the left with the ability to bevel to 48° for increased capacity
0-48° miter (left and right) for greater versatility cutting angles
Lightweight (40 lbs.) with built-in carry handle for easy portability
Ideal for use with the DW723 miter saw stand

DEWALT DW705S Standard Equipment
carbide blade
extension kit
dust bag
blade wrench

DEWALT DW705S Specifications
Amps 15.0 Amps
No Load Speed 4,000 rpm
Blade Diameter 12 "
Arbor Size 5/8" or 1 "
Vertical Capacity: Baseboard Against Fence 4-1/4 "
Vertical Capacity: Crown Molding Vertically Nested 5-1/4 "
Horizontal Capacity: Baseboard Lying Flat 8 "
Horizontal Capacity: Crown Molding Lying Flat 6-1/2 "
45° Bevel Cut Capacity (dimensional lumber) 2" x 8"
90° Cross-Cut Capacity (dimensional lumber) 4" x 6 "
90° Cross-Cut Capacity (Max Width) 2" x 8" dimensional lumber
45° Miter Cut Capacity (Max Height) 4" x 4" dimensional lumber
45° Miter Cut Capacity (Max Width) 2" x 6" dimensional lumber
Weight 40 lbs
© 2005 The Home Improvement Web

Note: Over the past few years this website has been up we have often been asked for recommendations on products. We have decided to recommend those products we have used extensively based upon our experience. In this case the DEWALT DW705S 12" Heavy-Duty Compound Miter Saw is the top pick in it's class. All information on this page concerning the DEWALT DW705S is the property of The Home Improvement Web and may not be copied in any way shape or form.




Note: This article was submitted by a second party and the contents are subject to our disclaimer.