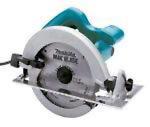 HIW Rating:

We really like this saw! I have owned three of these over the past 15 years and only one purchase was associated with product failure. That is if you want to classify dropping the Makita 5007NB from a second-story roof onto a concrete driveway failure!

I reserve one of these saws for cutting sheet goods on-site teamed with a Griset G3578 50" Tru-Grip Guide and a Tru-Grip FT8TS 8' Guide. With this setup you can cut hardwood veneered sheet goods with the accuracy of a table-saw. When using one of these guides you will need to set the guide 5-1/8" to the left of your desired cutting position on the Makita 5007NB.

Tip: If you are doing a lot of sheet good cutting, spray a little WD40 on the baseplate of the Makita 5007NB and on the edge of your guide every once in awhile and you won't believe the amount of friction that is reduced.

The other Makita 5007NB is used for rough-in type cutting. Whether you are cutting douglas fir stair stringers or 2"x12" treated lumber these saws do not bog down. The motors and bearings seem to last forever and the weight and comfortable grip along with it's well balanced design allows you to cut all day without fatigue. You will also appreciate the flexible rubber cord. This is a saw that both professionals and do-it-yourself enthusiasts will come to appreciate.

If you don't need all the power of the Makita 5007NB and would prefer a lighter solution - take a look at the Makita 5740NB!

Makita 5007NBK Features
Heavy gauge aluminum wraparound base ensures stable support
Shaft lock for easy blade replacement
Heavy duty 13 AMP motor for continuous operation
Ball bearing construction
AC/DC switch for use with alternative power sources
Includes special "thin rim" carbide blade
Includes plastic tool case for convenient storage

Makita 5007NBK Standard Equipment
Carbide tipped blade (A-90009)
Wrench #13 (781203-2)
Rip Fence (164095-8)
Plastic tool case (824409-0)

Makita 5007NBK Specifications
Blade diameter 7-1/4"
Arbor 5/8"
Max. cutting capacities: at 90° 2-3/8" at 45° 1-3/4"
No load speed 5,800 RPM
Watts out 2,100
AMPS (115V) 13.0
Overall length 11-5/8"
© 2005 The Home Improvement Web

Note: Over the past few years this website has been up we have often been asked for recommendations on products. We have decided to recommend those products we have used extensively based upon our experience. In this case the Makita 5007NBK - 7-1/4" Circular Saw is the top pick in it's class. All information on this page concerning the Makita 5007NBK - 7-1/4" Circular Saw is the property of The Home Improvement Web and may not be copied in any way shape or form.





Note: This article was submitted by a second party and the contents are subject to our disclaimer.